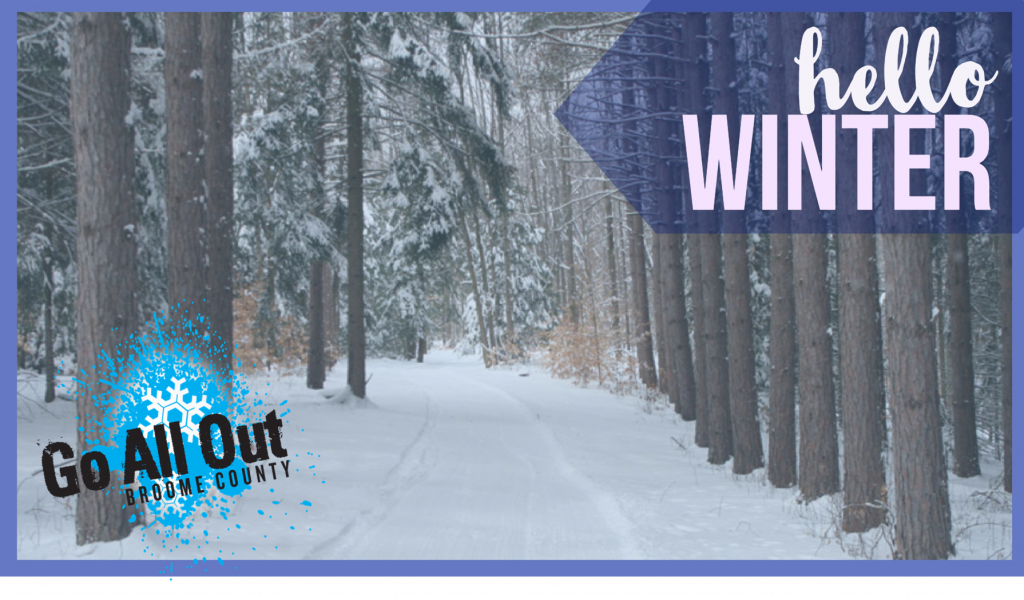 Broome County is a great place to be for some fun in the snow. Visiting our local natural areas in the winter can reveal new sights, sounds and smells, making familiar places into something new to explore. If you are looking to see what winter in Broome has to offer, here are some great ways to Go All Out with some winter fun.
There are a number of places in Broome County where you can cross-country ski including State Parks, State Forests and County Parks. If you have never tried cross-country skiing before, Greenwood Park is a great place to get started. The park offers ski rentals so you can try it out before you invest in your own pair. You can check out the Greenwood Park website for details about fees and hours and follow their Facebook page for updates on trail conditions.

Hiking in the winter can be a very peaceful and invigorating (with the right footwear). Most local parks are open year round so you can still enjoy your favorite trails. If you want to change it up, snowshoeing is a fun option. In addition to skis, Greenwood Park also has snowshoes for rental, making it a great place to try this activity out.
The Triple Cities Hiking Club is a great organization if you need advice on hiking in any season. Their regular hiking outings even continue through the cold winter months.
Broome County is lucky to have some great snowmobiling trails maintained by the BC Sno Riders. They are also a great resource when it comes to the rules and regulations for snowmobiles in New York State. So if you are thinking of getting involved in snowmobiling they are a great group to know. You can view the trail system in our interactive map under the Winter tab.
White, freshly fallen snow makes a great backdrop for viewing wildlife. The contrast of fur or feathers is more prominent against the snow than the greens and browns of other seasons. The presence of fresh tracks also makes it easier to spot a visitor nearby. Some of the animals that particularly standout are white tailed dear, red foxes, and even black bears. Just make sure to enjoy at a distance. Don't forget to look up, because winter is for the birds! Did you know that cardinals are in fact redder in the winter? This makes winter a great time to catch that perfect pic. Winter is also prime time to check out Bald Eagles whose concentrations peak in January and February.
If you need help figuring out where to start the Naturalists Club of Broome County has a wealth of information on local wildlife watching opportunities.
The outdoor events don't stop when the temperature drops. The Binghamton Pond Festival at Chenango Valley State Park is happening throughout the month of January. This event started as a pond hockey tournament but includes so much more like live music, ice skating, inflatable games, guided nature walks and more.
There are also still plenty of chances to get out and run with fun themes that help you face the cold.  You can check out the Triple Cities Runners Club race calendar to keep track of upcoming events like these. The Pond Festival also hosts the unique Pond Hockey Trail Run and Snowshoe Race the last weekend in January. In February, show your significant other how much you love them by teaming up for the Run With Your Hun 5K where you can't cross the finish line without your partner. Finally in March you can call on the luck of the Irish to help you cross the finish line in the St Patrick's Day 4-Miler.
You can also tackle the course at Newbsanity for the Frozen Four Miler on February 17th. "This unique running event will take participants through snowy wooded trails, hilly roads and maybe some snow banks thrown in along the way! We even have a bathing suit class for the truly insane."
And last but not least, who would pass up the chance to go sledding? You can do it pretty much anywhere there is a hill, but we know there are some local favorites like Rec Park, Highland Park, Chenango Valley State Park and more. Check out this list of some great sledding spots. What is your favorite?