The Broome County Dozen Hiking Challenge is a collaboration between the Triple Cities Hiking Club and Go All Out Broome County. We invite you to visit a dozen of the finest hiking gems in Broome including municipal parks and local nature preserves.
The Triple Cities Hiking Club, founded in 1947, frequently hikes at each location. Non-members are always welcome!  View the current hike schedule and other info about the TCHC at:
https://sites.google.com/site/tchcny/
Read on for more information about the challenge!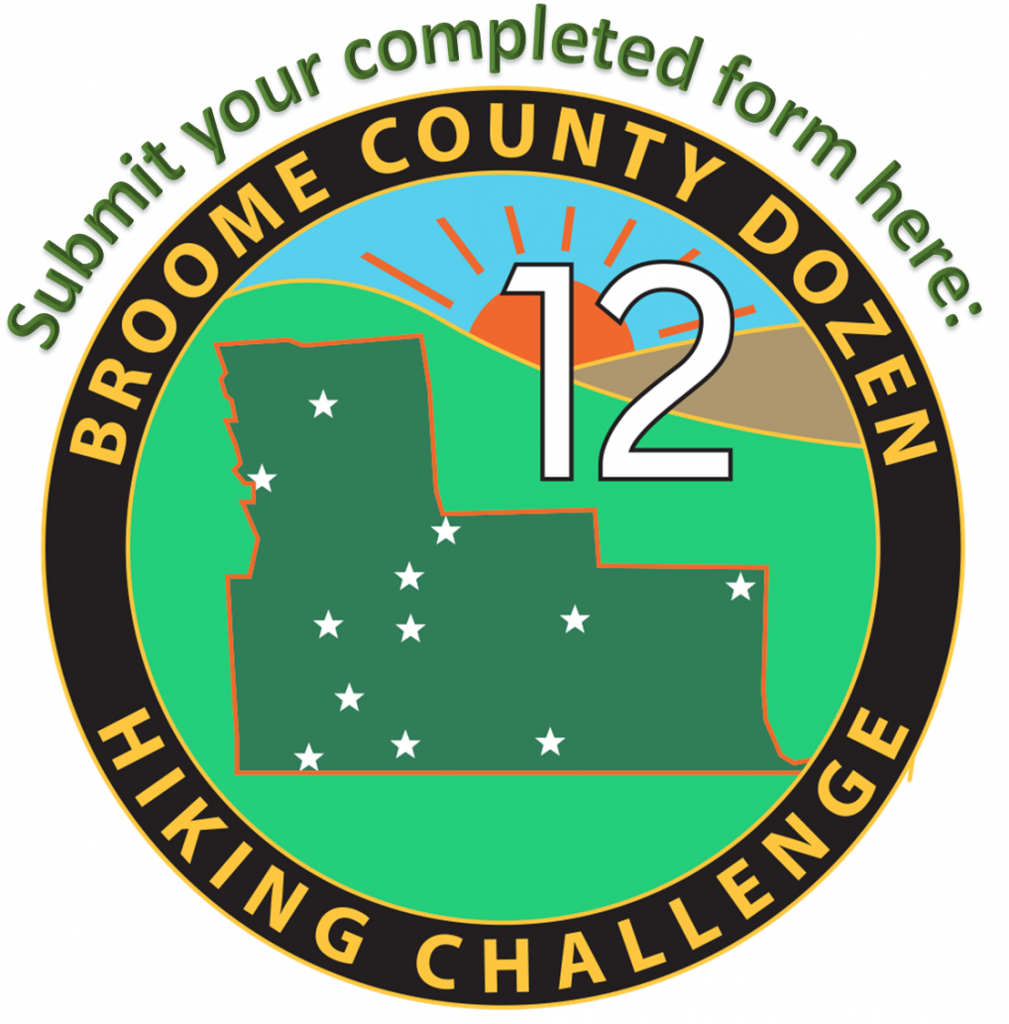 The Challenge
The Challenge requires hikers to visit 12 identified hiking locations and complete a specified challenge at each, totaling over 40 miles.  Complete the following steps to become an official Broome County Hiking Challenger:
Complete all 12 site challenges in any order, over any period of time (after April 2019). We strongly advise that you plan ahead for your hike. View site details below.
Document your progress with the trail log in the Broome County Dozen brochure. It can be printed here or found at local hiking spots and businesses. Use the notes section to document special findings, trail issues or other input.
Complete the registration form with trail log and send your info with $5 to the TCHC (nominal fee goes toward expenses for the program).

Submit your completed hikes online by clicking on the patch image above, or
Mail completed form with check to: TCHC, PO Box 22, Johnson City, NY 13790 (Checks payable to TCHC)
You may submit info and payment for multiple hikers together.

A special "Broome County Dozen Hiking Challenge" patch will be mailed to you shortly after and your achievement will be celebrated on Go All Out Broome's Facebook and Instagram pages.
You are not required to verify each hike beyond the trail log, but please spread the word via social media by tagging #BroomeCountyDozen and #GoAllOutBroome!
Please direct any questions to contact@triplecitieshikingclub.org
The Hikes
Across Broome County, you must visit and hike 12 spots to complete the Hiking Challenge. Some trails are better marked than others so planning ahead is essential.
Below is a basic list of sites. To find detailed info about each site including site descriptions, trail maps, images and more, you should click on the site name below (strongly recommended).
Note that individual sites are NOT maintained by the TCHC or Go All Out.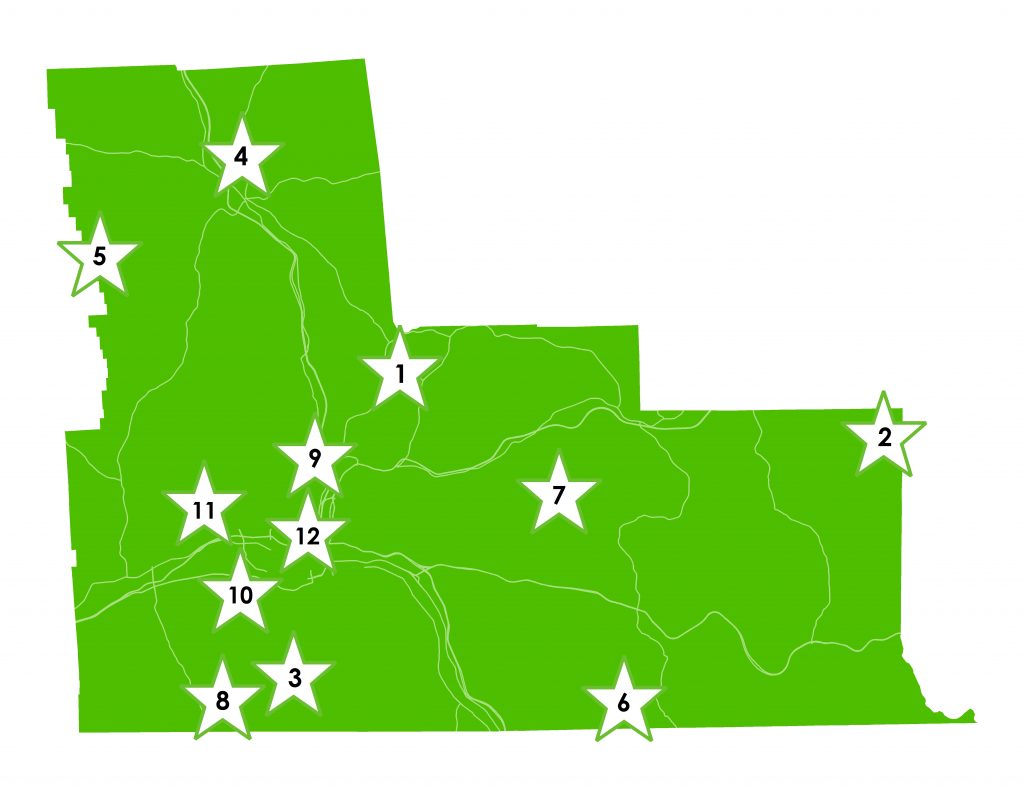 State Parks
1. Chenango Valley State Park
Challenge: 6 miles, round-trip
Hike from the beach to the Tioughnioga/Chenango River Confluence and back.
2. Oquaga Creek State Park
Challenge: 2- 3.5 mile loop (route dependent)
Hike the loop around Arctic Lake.
Broome County Parks
3. Aqua Terra Wilderness Area
Challenge: 5 miles
Hike to the top of the old ski slope, and circumnavigate the pond across Maxian Road.
4. Dorchester Park/Whitney Point Lake
Challenge: 4 miles out and back
Hike the dam on the Lake's south end from the beach to Keibel Road
5. Greenwood Park
Challenge: 3 mile loop
Hike the park's outer perimeter
6. Hawkins Pond
Challenge: 4 mile round-trip
Hike from the pavilion to McAlister Road and back
7. Nathaniel Cole Park
Challenge: 1.25 mile loop
Hike around the lake
Town Parks
8. Jones Park (Vestal)
Challenge: 4 miles
Hike to the pipeline at the Park's eastern boundary
9. Wolfe Park (Chenango)
Challenge: 3 miles
Hike a loop around the park via the Bluebird and Hill Trails
Nature Preserves
10. Binghamton University Nature Preserve
Challenge:  4 miles
Hike the perimeter of the Preserve
11. IBM Glen (Waterman Center Property)
Challenge: 2 miles, round-trip
Hike to the stone bridge on the Gray's Creek Trail
12. SUNY Broome Natural Area
Challenge: 2 miles, round-trip
Hike the perimeter trail