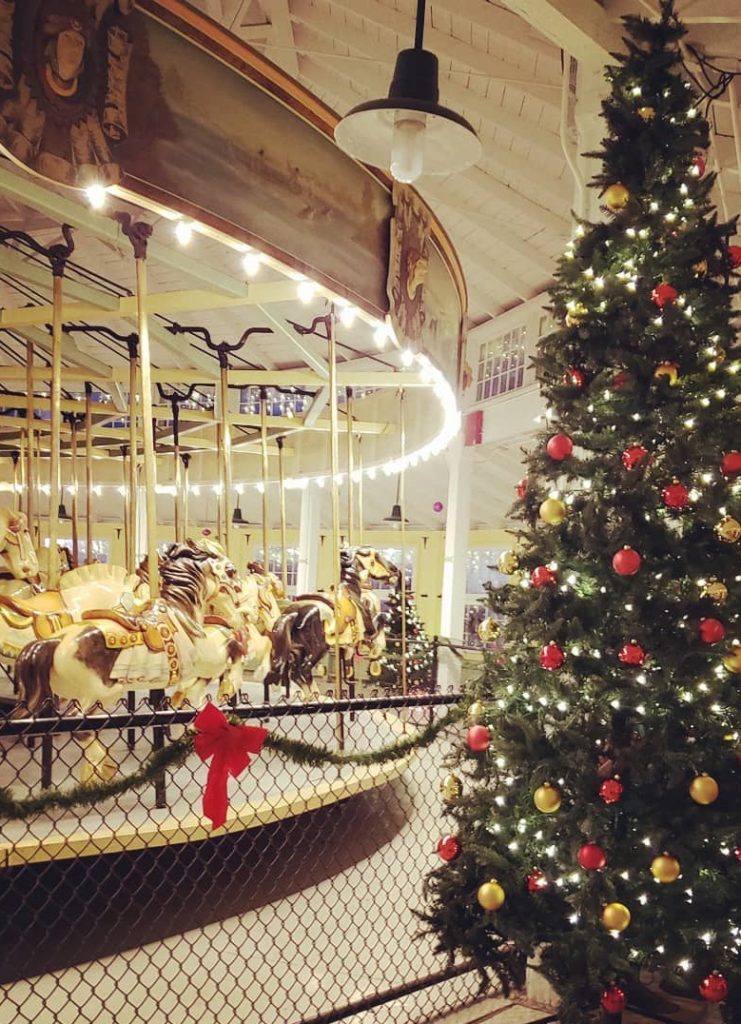 With a chill in the air, as the snowflakes start flying, there are great opportunities to get out and about with family and friends in the Greater Binghamton area during the holiday season. There is no need to hide inside, 'tis the season to Go All Out!
Celebrate
The holidays are a time when the community comes together and shares in the joy and magic of the season. Lots of Towns and Villages kick things off with a celebratory event that gets everyone in the holiday spirit including festive lights, parades, and caroling. The City of Binghamton and Village of Johnson City gets things going with their annual holiday parades in late November. And the first weekend in December is packed with things to do like Endicott's Holiday Magic on the Avenue, Kirkwood's Hometown Christmas, The Fenton Free Library's Annual Tree Lighting and Vestal's Christmas Tree Lighting and Family Sing-A-Long.
There are even more holiday themed events. In Binghamton you can also enjoy the annual Ivory Christmas, centered around pianos scattered throughout Downtown playing holiday songs, along with holiday lights and other festive happenings. At Highland Park in Endwell you can enjoy Visions of Christmas in the Park an event featuring  carousel rides, a craft bazaar, hot cocoa, live reindeer, pony cart rides, and a wood carving demonstration. There is also a full Family Zone with kids activities and fireworks.
Go Back in Time
The Binghamton Area is well known as the Carousel Capital of the World, home to six vintage carousels that are always free. While typically closed in the colder months, some of the carousels are open for special holiday hours, transporting you back in time for a magical holiday experience.
Lights on the Carousel at C. Fred Johnson Park in Johnson City runs on Friday and Saturday evenings in the weeks leading up to Christmas. The Carousel is decked out in holiday decor and there are visits with Santa too. At Recreation Park in Binghamton they hold annual Holiday Carousel Rides on Saturdays in December. This event also features live Christmas music and horse-drawn carriage rides. Visions of Christmas in the Park (see above) also features rides at the Highland Park carousel.
Get Active
If you are looking to stay warm, what better way than getting active at one of the many holiday-themed running evnets. You can even be creative and don your best holiday gear! If you're not a runner, don't worry. These themed events have awards for the best costume, so still tons of fun for all abilities.
You can start the month off right by donning your ugliest holiday sweater for the December Ugly Sweater Pub Run. This themed run is part of a monthly series that takes place during First Friday. Runners of all abilities leave from Confluence Running and visit several pubs in the Downtown Binghamton area.
The Christmas Cookie Run at the Vestal Coal House is a lot of fun as you are serenaded by Christmas carolers and rewarded with Christmas cookies. That is followed up by the Binghamton Santa Run where spectators are treated to a horde of Santas (and other holiday characters). That event also features a kids run so the little ones can join in on the holiday excitement. No need to feel bad about those holiday indulgences. If you want to start 2020 off right you can run in the Resolution Run at the Coal House too!
Looking for a event for the whole family? You might want to try to Snorkle with Santa, over at the West Family Y. This holiday party not only offers pictures with Santa, crafts, and food, but the little ones will get the chance to jump in the pool to swim and play with Santa, truly a unique holiday experience.
Get Wild
Holiday time isn't all about reindeer. If you're holiday wish is to spend time with some furry friends this holiday, look no further than Animal Adventure Park's annual Jungle Bells: Holiday Lights. On weekend evenings in November and December you can stroll the grounds of park viewing their huge lights display and visiting with the animals. Santa even stops to check on the animals and might even visit with the humans too.
Local Heritage
Some of the area's best local places celebrate the season and our local heritage. Roberson Museum's annual Home for the Holidays event starts in November and runs through the new year. This event features hundreds of decorated trees and holiday. The event also features special activities such as holiday tours of the historic mansion, a holiday craft shop for kids, live music and more. The historic Phelps Mansion also hosts Christmas Traditions Candlelight Tours.
The kids can also have fun visiting Santa's Workshop at the Discovery Center of the Southern Tier. The grand opening features breakfast with Santa pictures with Santa, crafts, activities and special performances.
The Broome County Regional Farmers Market holds several events for the holiday season. During the first week of December they hold the multi-day Holiday Artisan Market.  They also have regular cooking classes that take a holiday twist at this time of year, like making Christmas Cookies.
At Go All Out Broome County we love to celebrate all seasons by enjoying our community and the outdoors. It is clear that there are lots of ways for you and your family to get out and about this holiday season in Binghamton and Broome County.